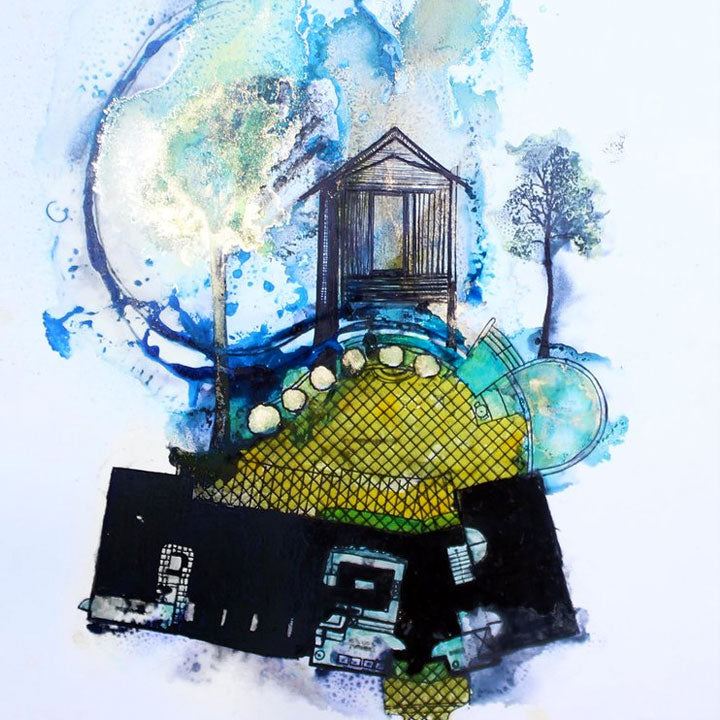 December 20th - January 31st
Art Walk January 14th 6 to 9pm
Closing Reception Sunday January 31st 2 to 5pm
Arshin Agashteh's paintings are the battlefield of forces from two contradictory worlds. Here, a linear and orderly world clashes with the unstable and amorphous world of canvas, resulting in a collision that is manifested in explosions, eruptions and chaos. This is an improvised explosion captured on the canvas in a moment.
These explosions trigger immediate and unpredictable results. It is the accident that holds sway over everything, aspiring to embody new forms and molds by disturbing the order of things. A simple story is relived repeatedly in this collection, each time with new details and a meticulous narrative. From this perspective, it recalls the ancient tradition of Persian painting.
The white background of the works on the one hand and the absence of human agency on the other hand portray a still and frozen world. The painting is frozen in a very short moment of time. The timing is accurate and precise to illustrate details vividly.
Explosions occur in silence, colorful and beautiful, like wild blossoms.
این خانه ی عموی من نیست که در آسمان پرواز می کند؟
نه، این یک شکوفه بهاری است.
این نمای خانه ی خیالی من نیست که فرو می ریزد و می پاشد و هر تکه اش به قاره ای پرتاب می شود؟
نه، این ها شکوفه های تابستانی هستند.
این ها همان خانه هایی نیستند که هر روز در سینمای خانگی می رقصند؟
نه، این ها شکوفه های پاییزی هستند.
پس نباید گریه کنم؟ پس می شود بشقاب شام را جلوی تلویزیون ببرم؟ پس قرارهای چای نوشیدنمان لغو نمی شود؟
نه، ببین شکوفه های زمستانی چقدر زیباست.

Isn`t this my uncle`s house that is flying in the sky?
No, it is a spring blossom.
Isn`t it the view of my dream house that is collapsing and scattering and each of its pieces are throwing to a continent?
No, these are summer blossoms.
Aren`t these the houses that are dancing on the home theater every day?
Shouldn`t I cry then? Is it possible to take my dinner dish in front of the TV? Aren`t our tea gatherings canceled then?
No, look how beautiful the winter blossoms are.
BIO
Arshin Agashteh was born in 1977 in Tehran. Until the age of three, she was bought up in
Khuzestan province, the birthplace of his father, in southern Iran. Following the onset of Iran-Iraq
War in 1980, she along with her family moved to Tehran. The war lasted for eight years and even
central cities like Tehran were not immune to the missile attacks of Iraqi army. After finishing
high school in 1994, she continued her education in clinical psychology (undergraduate). After
graduation in 1999, she volunteered to work in the Iranian Mental Hospital and Epilepsy Society
until two years later when she decided to pursue art. Accordingly, in 2001, she began studying
painting (at bachelor degree). In 2006, after completing undergraduate studies, she pursued her
education in visualization (at master degree) and managed to graduate in 2008. In the same year,
she began teaching at the University of Applied Sciences and Arts, a career which lasted until
2014. In this year, she was offered a position as the faculty member of Rasam Art University,
which she has held until present time. Last year, she won a scholarship to continue her studies in
the field of Art Therapy in the University of San Francisco, but she did not take it up seriously.
Since 2006, she has organized several solo and collective exhibitions in Iran, Italy and United States.