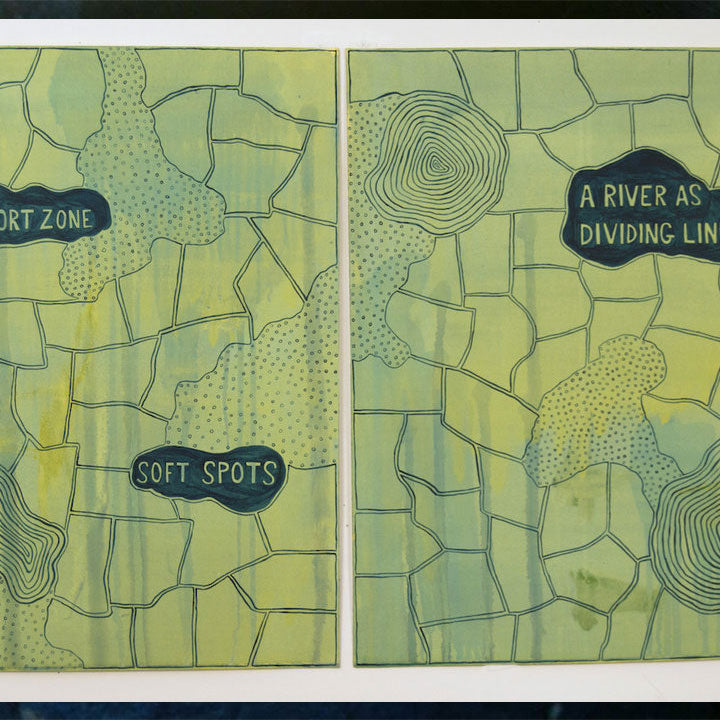 March 12th - April 6th, 2014
Opening Thursday March 13th, 2014, 6 to 9pm

Twilight Gallery is pleased to announce <strong><em>In This Place</em></strong>, a group exhibition of five contemporary artists who address the complexity of place that reveal ideas of identity, land, memory and home.

Featuring:

Kelda Martensen (SEA), Glenn Tramantano (SEA), Dahlia Elsayed (NJ), Lauren F. Adams (MD) and Arshin Agashteh (Iran)

With exhibit poem by Matthew D. Rowe

Musical guests: Willow and the Embers

Trunk Show with Silversheep Jewelry

POP-UP shop with Jonquil &amp; Mr. Black

Artist bio's:

Kelda Martensen maintains a studio practice based in paper, book and print arts. She serves as full-time visual arts faculty at North Seattle Community College and received her MFA in Visual Art from the Sam Fox School of Design and Visual Art at Washington University in St. Louis. Kelda was born in Tacoma, Washington and lives and works in Seattle. www.keldamartensen.com

Glenn Tramantano  is a mixed media artist and educator originally from New York, and currently living in Seattle for the past three years.  He received his Masters of Fine Arts from Washington University in St. Louis and his Bachelors of Arts from University of Pennsylvania in Philadelphia.  He has received grants from Artist Trust and The City of Seattle Office of Arts &amp; Cultural Affairs for the further development of his work.  He currently teaches art at North Seattle Community College.

Dahlia Elsayed's paintings, prints and artist books have been shown at galleries and art institutions throughout the United States and internationally, including the 12<sup>th</sup> Cairo Biennale, and solo exhibitions at Aljira Center for Contemporary Art and the Jersey City Museum. Her work is in the public collections of the The Newark Museum, The Zimmerli Museum, Johnson &amp; Johnson Corporation, New Jersey State Museum, amongst others. Dahlia has received awards from the Joan Mitchell Foundation, the Edward Albee Foundation, Visual Studies Workshop, Women's Studio Workshop, Headlands Center for the Arts, and The NJ State Council on the Arts. She received her MFA from Columbia University, and lives and works in New Jersey. Ms. Elsayed is Assistant Professor of Humanities at CUNY LaGuardia Community College.

Lauren Frances Adams was born in Snow Hill, North Carolina in 1979. She graduated with a Bachelor's of Fine Arts from the University of North Carolina at Chapel Hill, and with a Masters of Fine Arts at Carnegie Mellon University. Adams has exhibited at the North Carolina Museum of Art (Raleigh), the Mint Museum of Craft and Design (Charlotte, NC), the Warhol Museum (Pittsburgh, Pennsylvania), an ex-Turkish bathhouse in Belgrade, Serbia, Nymans House National Trust (England), Royal NoneSuch Gallery (Oakland, CA), The Mattress Factory (Pittsburgh, PA), Contemporary Art Museum St. Louis (including EXPO Chicago), and CUE Art Foundation (New York). She attended the Skowhegan School of Painting and Sculpture, held a residency at Jentel in Wyoming, and recently completed a residency at the Cite in Paris, France, July and August 2010. She is the recipient of the Joan Mitchell Foundation MFA Award. Adams currently holds a position as full-time faculty at Maryland Institute College of Art in Baltimore, MD.

Arshin Agashteh received her BS in Clinical psychology at Rudhen Azad University, a BA in Painting,  Art &amp; Architecture from Azad Tehran University and her MA in Illustration at the Tehran University of Art. She's worked as a volunteer at the Children's Book Council of Iran since 2001, is a published author and illustrator and currently holds a position at the Comprehensive University of Applied Science and Technology.